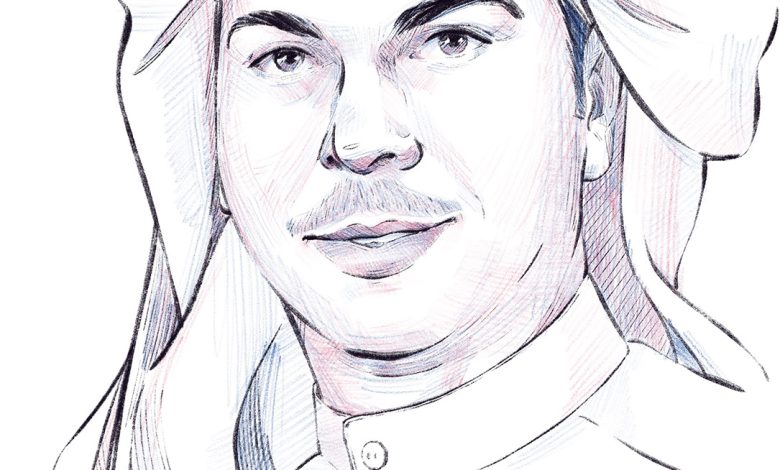 Ahmad Allafi spends a lot of time thinking about something most of us take for granted: food safety. But as a professor of food science and nutrition at Kuwait University, food safety is one of Allafi's passions. This year, his commitment to the field paid off in a big way as he was awarded the Kuwait Foundation for the Advancement of Sciences (KFAS) Jaber Al-Ahmad Prize for Young Researchers, in the field of Biological Sciences.
Allafi's path to success in the field of nutrition and food sciences has been a winding one. He earned a bachelor's in chemical engineering with a minor in mathematics at the University of Missouri in the United States in 2000. After graduation, he returned to Kuwait to work as an engineer at Kuwait National Petroleum Company. He also earned a master's in chemical engineering at Kuwait University in 2003.
While working as an engineer in Kuwait, Allafi began to develop new interests that would put him on a different career path and take him back to the United States for further education. This time he settled in Columbus, Ohio, where he studied for his Ph.D. in food science and nutrition at Ohio State University from 2005 to 2008.
While the leap from chemical engineering to food sciences might seem like a big one, Allafi said it makes a lot of sense. "I believe that engineering is the base of every science," he said.
His background in chemical engineering strengthened his doctoral research and facilitated the next step on his career path. "Once I had become a chemical engineer, I'd studied a lot of chemistry, biology, and other material that helped me succeed in food science and nutrition," he said.
When asked why he decided to make a career change, Allafi said, "it's all about helping people." Working in nutrition and food science presents many opportunities to change lives, from researching and promoting healthy lifestyles to ensuring food safety and quality.
"Making others' lives easier — this is happiness to me," said Allafi. "A career in food science or nutrition is ideal for those seeking to improve people's lifestyles."
During his doctorate, Allafi researched synthetic food packaging with significant implications for nutrition, food safety, consumer protection, and public health. He said the pillars of nutrition, safety, and healthy living inform all his work.
After finishing his doctorate, he returned to Kuwait again, where he has since worked in teaching and administration at Kuwait University. He teaches courses about food regulation, food packaging, human nutrition, and more in the food science and nutrition department.
His position as a professor also allows him to continue the research he started as a doctoral student, exploring the use of nylon nanocomposite particles in food packaging. Using inorganic nanoparticles in food packaging is a promising new frontier in food science. This packaging can preserve, protect, and maintain food quality for much longer.
In Allafi's most recent project, he tested the thermal properties of nylon nanoparticle-based food wraps and whether the films are permeable to oxygen, carbon dioxide, or water vapor. In simpler terms, Allafi said the project tested "the formulation of the packaging itself, how the package behaves, food processing steps, and if there are any health effects to using these packages."
The goal is to prolong shelf life as much as possible while ensuring the new packaging has no detrimental effects on people or the planet. "This is the trick," Allafi said. "We need to maximize shelf life without hurting the environment or humans."
Working on a project like this requires diligence and laser-sharp focus. But Allafi is up to the task. Even at such a young age, his go-getter attitude has already earned him many grants, publications, and accolades.
Many of his publications concern healthy lifestyle promotion and food quality. He has been published in prestigious journals, including the Annals of Biology, the Journal of Food Science and Technology International, and Frontiers in Public Health.
Allafi's latest achievement is being awarded the Jaber Al-Ahmad Prize for Young Researchers, which recognizes Kuwaitis under the age of 45 with doctorates in various fields for their publication record and future research potential.
Allafi said he is thankful to the Amir of Kuwait, the Crown Prince of Kuwait, and KFAS for offering awards like this to recognize and inspire scientific achievement.
For Allafi, the recognition has made him proud of his work and motivated him to continue his research intensity and pursue new projects in food science. "It's some sort of ignition for me," he said. "I feel very happy that I have been recognized for what I have done, and it drives me to do more in this field. I hope I can accomplish more in the coming years."
Allafi has plenty of project ideas to choose from and, as a young researcher, a long career ahead of him to make interventions in the field. Next, he would like to work on foods advertised and sold for their supposed health benefits. He said a typical example is jars of honey sold to relieve stress.
How can consumers trust that these products are pure? How can they know whether there are unmarked additives in these products? Allafi has an idea. "I would like to work in food adulteration and methods of catching these adulterations," he said. He wants to develop home testing methods "that anybody can use in the near future for food analysis."
With an already illustrious career behind him and new wind in his sails thanks to the Jaber al-Ahmad Prize for Young Researchers, there's no limit to what Allafi might accomplish next.
By Marianne Dhenin